Trefili Pinot Grigio, Cantina Volpi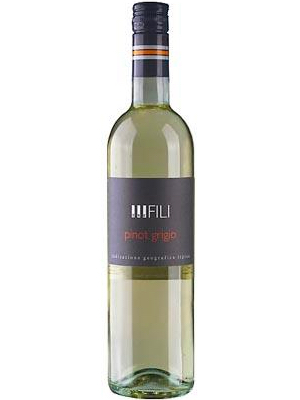 Trefili Pinot Grigio, Cantina Volpi
Bright and fresh with citrus, green apple and a touch of steely minerality
NAME OF WINE: Trefili Pinot Grigio
NAME OF ESTATE/DOMAINE: Cantina Volpi
VINTAGE: 2017
ABV: 12%

NAME OF WINE: Trefili Pinot Grigio
NAME OF ESTATE/DOMAINE: Cantina Volpi
VINTAGE: 2017
ABV: 12%
LOCATION: Lombardy, near the city of Pavia
GRAPE/BLEND: 100% Pinot Grigio
SUITABLE FOR VEGETARIANS/VEGANS: Suitable for vegetarians and vegans
ALLERGENS (EGGS AND/OR MILK): None used
TASTING NOTE: Pale straw in colour, with a tantalising orchard fruit character on the nose, plus spring blossom and a touch of green herbs. In the mouth this is bright and fresh, with vibrant citrus flavours, green apple and a touch of steely minerality. Good clean finish and zesty acidity leave the palate refreshed.
(LOCAL) FOOD RECOMMENDATION: Try with pumpkin ravioli with sage butter, spaghetti with anchovy and oregano sauce or grilled trout stuffed with rosemary, thyme and garlic.
SHORT HISTORY: Cantina Volpi was founded in Tortona, in the Province of Alessandria in the far-off 1914, today represents a foreground reality in the Italian wine panorama. With the flowing of the generations, the Company was able to build, step-by-step, a distinctive role in its territory and an image of high quality for its wines, both on the Domestic and International markets.
TERROIR: Situated in the heart of the fertile Oltrepò DOC and IGT area. The vineyard is about 12 hectares, located at an altitude of 250 meters above sea level.
VITICULTURE: Training System - Guyot method.
YIELDS: The average is 90 Hectolitres per hectare, although it varies depending on the climactic conditions of every year.
PLANTING DENSITY: 4500 to 5000 plants per hectare
VINIFICATION:
 Destemmed

 Soft pressing

 Cool fermentation at a maximum temperature of 18-20oC ofr 10-15 days

 Fined with bentonite

 Filtered

 Cold stabilisation for 4-6 days at -4oC