Monbazillac, Domaine de l'ancienne, Jour de Fruit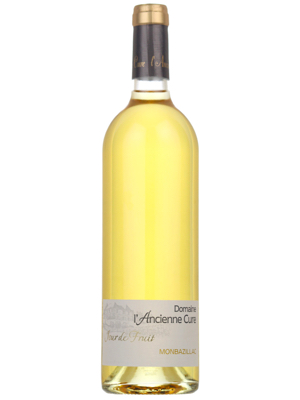 Monbazillac, Domaine de l'ancienne, Jour de Fruit
Bursting with apricot flavour and really fresh on the palate
NAME OF WINE: Monbazillac Jour de Fruit
NAME OF ESTATE/DOMAINE: Domaine de l'Ancienne Cure
VINTAGE: 2015
ABV: 13%
375ML Bottle
NAME OF WINE: Monbazillac Jour de Fruit
NAME OF ESTATE/DOMAINE: Domaine de l'Ancienne Cure
VINTAGE: 2015
ABV: 13%
NAME OF VIGNERON: Christian Roche
LOCATION (village and region): Colombier, Monbazillac, South West France.
GRAPE/BLEND: 90% Semillon, 10% Muscadelle SUSTAINABLE/ORGANIC/BIODYNAMIC: Organic
CERTIFICATION: Certified Organic by Agriculture Biologique
SUITABLE FOR VEGETARIANS/VEGANS: Yes, Both
ALLERGENS (EGGS AND/OR MILK): None used, sulphites only
TASTING NOTE: Golden yellow and concentrated in colour. The nose has aromas of white peach, confit fruits and honey, whilst it is ample in the mouth with good equilibrium, notes of crystallised fruits and apricots, very sweet and fresh with balanced acidity.
(LOCAL) FOOD RECOMMENDATION: Crème brulee, foie gras, blue cheese or tarte tatin

SHORT HISTORY: Fifth generation, Christian Roche inherited a portion of the property in 1984. Five years later, he decided to build the cellar in order to become an independent winegrower. After a few more years, in the continuing effort to develop better wines and noticing that conventional agricultural practices impoverished soils and the quality of wines, Christian decided to go back to basics: to respect the land and the vines. The culmination of this process was the decision to convert the entire property to Organic farming.
TERROIR: Argilo-Calcaire
VITICULTURE: Respect for the environment- working the soils for better rooting and healthy vines, selections massales (the French term for selecting the best vines in a vineyard and propagating them through cuttings). The property covers 47 hectares of vines with a predominance of white vines (32 ha).
VINIFICATION:
 Fermentation in cuve for 20 days

 Regular batonnage on the fine lees